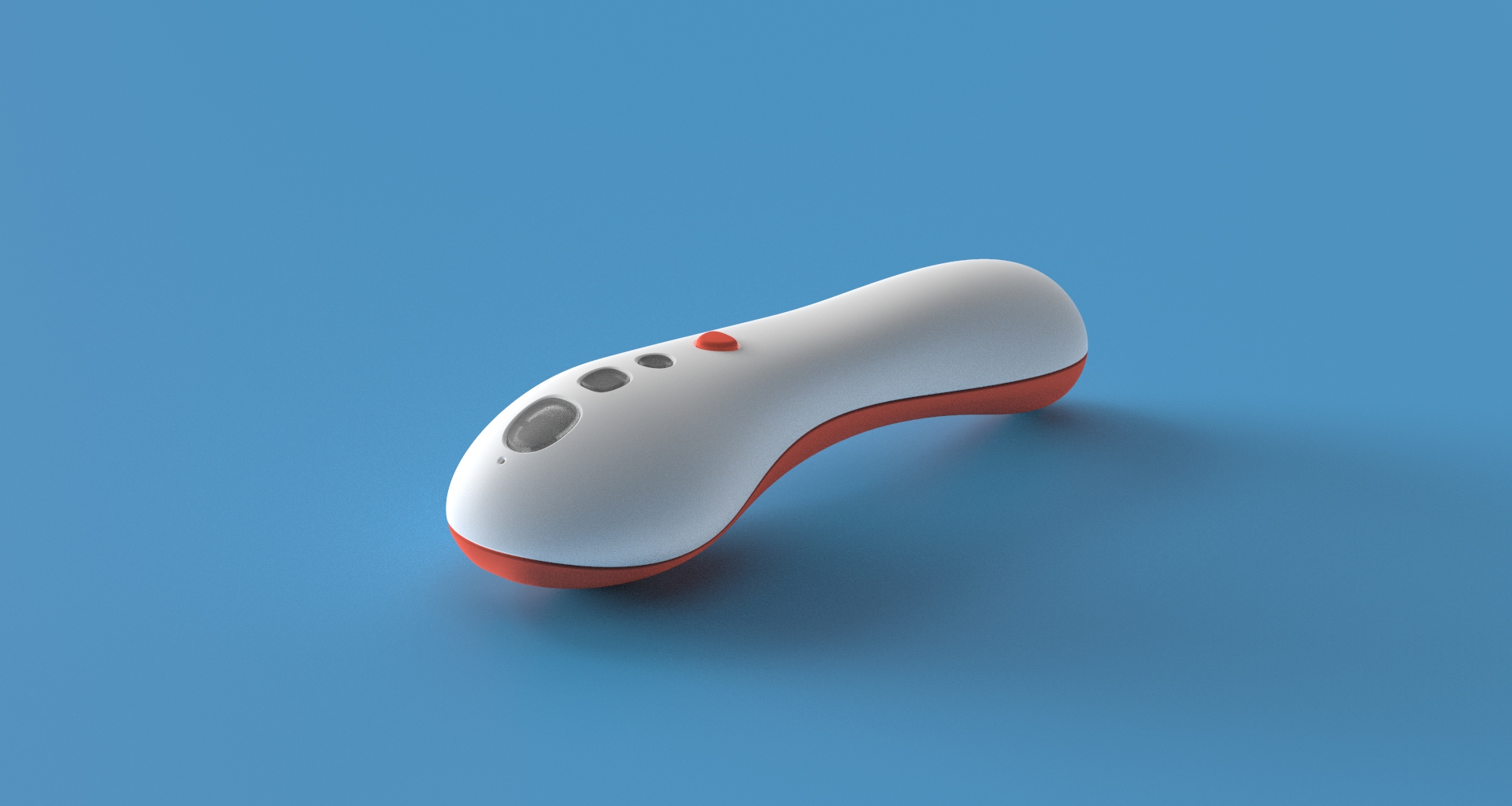 N Control is a gyro controller designed for 3-8 years old kids. By interacting with educational contents on screens while using the controllers, the learning experience will be more spontaneous.
Comments
Based on the 1st round ideation, there is a key LED light feature through out A-1 to A-3 concepts for indication and in-app functionalities. Also, there are strap loops on the ends of all handles for parents to put straps on in case of ejection from kids' hands while playing.
However, the holes might be hazardous if kids put fingers in the holes, which I suggest to either eliminate them or make them as small as possible. The form from A-1 is more preferable among three concepts due to its ergonomic curves on the handles; however, the width of the handles are too short so that they might be too small for 5+ year-old kids.
Comments
From the 2nd round ideation, the changeable/modular design was introduced to the product. Concept B-1 and B-2 are based on the A-1 design accents, which keep the LED light and ergonomic curves features. The strap hole diameter is reduced for the B-1 concept and removed for the B-2 concept. The front white parts on the B-1, B-2, and B-3 concepts are changeable for future modular attachment opportunities.
The B-3 concept is a different form approach by changing the ergonomic stick form into a loop form; however, it might be hard to communicate the device orientation with kids, and the loop size will be hard to manage according to the hand sizes from 2-8-year-olds. Overall, B-2 concept is more promising among the 2nd round ideation.
FORM AND SIZE VALIDATIONS
LIGHT PATTERN & BUTTON STUDIES
Comments
According to the third ideation, the anti-slipping curves were introduced to the concept to prevent the controllers from ejecting while playing. The contour line design represents the learning curve of kids as shown as the C-2 concept.
Concept C-2 and C-3 share the same form, which is tested after numerous prototypes with the target users (age: 2-8). Based on the conversation with the founders, I created the CMF for the C-3. Yellow shows the optimism of kids, and the blue represents the infinite future possibilities of kids.